2017 Honda Ridgeline Exterior
2017 Honda Ridgeline Exterior
2017 Honda Ridgeline Exterior – Modern and stylish, rugged and sporty, the new 2017 Ridgeline's exterior advances Honda's midsize pickup to the forefront of its class in design and functionality. With a notably longer wheelbase (up 3.3 inches vs. the previous generation), increased overall length (up 3.1 inches) and larger cargo bed (up 3.9 inches in length and 5.5 inches in width), the Ridgeline now has a more commanding presence, an even more comfortable ride, and greater cargo-carrying capability than ever before. Balancing the markedly improved utility are a slightly lower body height and width that improve Ridgeline's aerodynamic efficiency.
The second-generation Ridgeline exterior design incorporates numerous class-exclusive features, including its Dual-Action Tailgate and In-Bed Trunk®, and the available world's first available Truck Bed Audio System, which, when paired with an available built-in 400-watt AC inverter, makes Ridgeline the ultimate tailgating vehicle. Advanced exterior lighting, including available LED daytime running lights (DRL) and LED projector low-beam headlights which include the addition of auto high-beam, further add to the new Ridgeline's convenience, style and functionality.
Key Exterior Features (*first for Ridgeline)
Dual-Action Tailgate
In-Bed Trunk
World's first Truck Bed Audio System* (available)
Low-drag exterior
LED daytime running lights (DRL)* (available)
LED projector headlights with Auto On/Off* (available)
Auto high beams* (available)
Fog lights (available)
Power sliding rear window with defroster (available)
One-Touch Power Moonroof with Tilt Feature (available)
Exterior Styling
2017 Honda Ridgeline Exterior – Starting with a bright-chromed bar grille design (black chrome on Black Edition) and charging rearward from there, the 2017 Ridgeline's all-new exterior design is advanced, aerodynamic and tough, with a more traditional three-box profile integrated with modern design detailing. The second-generation Ridgeline is also longer, with a 3.2-inch longer wheelbase and three inches longer overall, creating a stronger, more truck-like profile. The added length also expands the Ridgeline's capabilities, with best-in-class passenger volume (see Interior section) and improved cargo-carrying utility.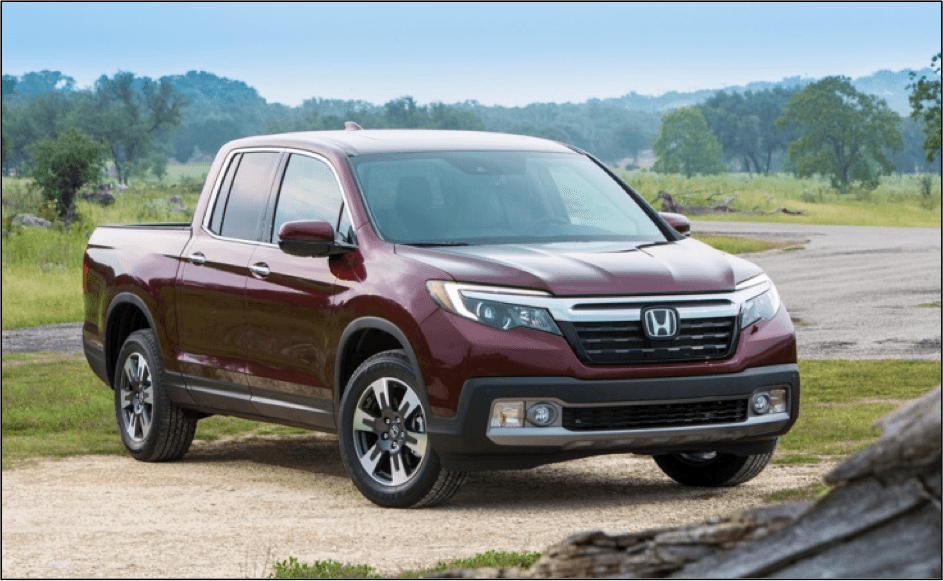 2017 Honda Ridgeline Exterior
The new Ridgeline marries aerodynamic efficiency to a traditional truck profile, with the overall design backed up by intensive tuning and testing. In front, the lenses of the LED daytime running lights (DRL) and available LED projector beam headlights are rakish and aggressive. The chiseled front fascia, air inlets and skid plate evoke rugged high performance. The hood and front fenders are likewise strengthened with sharp character lines that add a muscular and purposeful air.
The flush-mounted windshield is raked aggressively, lowering wind noise and improving fuel efficiency simultaneously. The flush side glass, now 43-percent thicker than on the previous Ridgeline, further reduces noise levels in the cabin. The body sides are clean and strong in appearance, with sculpted lower sills, a rising character line and bulging wheel openings all adding visual solidity. A wind tunnel-developed spoiler array at the rear edges of the passenger cabin and top of the flip/swing tailgate help to reduce drag at highway speeds.
Bright chrome trim surrounds the side windows for an upscale appearance, with the chrome widening at the C-pillar, adding further substance. Standard 18-inch wheels, and in back, a larger tailgate and new LED taillight array further add to the Ridgeline's substantial presence. Sport and Black Edition feature dark finishes for an aggressive, custom-shop look.
The Ridgeline's unit-body is comprised of multiple stampings of different steel grades, from 270 MPa mild steel to 1500 MPa ultra-high-strength steel. The inner and outer door frames are complex assemblies using four different steel grades and six stampings, while the rear fenders are created separately from a single steel grade (270 MPa). This new construction, which replaces the one-piece body side panels (door frame and rear fender) on the previous generation Ridgeline, affords improved reparability in the event of a side impact. A rubber seal is applied to the area between the cab and rear fender for a clean and finished appearance.
Cargo Bed
2017 Honda Ridgeline Exterior – Measuring 64 inches (1,626 mm) in length, the 2017 Ridgeline's bed is 3.9 inches (100 mm) longer than the previous generation and is complemented by a class-leading overall payload capacity of up to 1,584 pounds, or 718.5 kg (RT AWD), an increase of 38 pounds (17.2 kg) compared to the previous model. The bed length further increases to 83.5 inches (1,221 mm) with the load-supporting Dual-Action Tailgate (see below) in the down position.
The 2017 Ridgeline bed is also wider than the previous generation in all dimensions, including:
60 inches (1,524 mm) between side linings (+ 5.5 inches, or 140 mm)
50 inches (1,270 mm) between the wheel wells (+0.2 inches, or 5 mm)
51 inches (1,295 mm) at the D-pillars (+1.9 inches, or 48 mm)
These dimensions, capacities and features permit the Ridgeline to easily transport heavy objects such as motorcycles or appliances, an ATV or a riding mower. Each of its eight tie-down cleats is rated to secure 350 pounds (158.8 kg).
The bed's working surfaces are likewise improved as follows:
Narrower corrugations provide improved footing
The floor is comprised of UV-stable SMC
Vertical panels are finished with UV-stable polypropylene plus long-glass fiber
The black substrate used in the bed floor minimizes the visibility of scratches that may be experienced in use.
Other Ridgeline bed features include:
World's first Truck Bed Audio System, on the RTL-E and Black Edition; includes six weatherproof audio exciters that transform the bed walls into resonant speakers (see Audio and Connectivity section)
115V 150W/400W AC power outlet in right side lining pocket on RTL-E and Black Edition (150 watts with ignition in ACC mode, 400 watts with engine running)
Two LED cargo area lights on the RTL-E and Black Edition (incandescent on other trims) illuminate both the bed and the In-Bed Trunk (see below)
Tonneau-ready horizontal surfaces
A side lining pocket with a hinged removable lid
Alternative in-bed spare-tire tie-down point
The Ridgeline is also available with a wide variety of accessories, including adjustable crossbars, a cargo bed net, and a tri-fold hard tonneau cover.
Dual-Action Tailgate
2017 Honda Ridgeline Exterior – The Ridgeline's dual-action tailgate opens down like a typical truck tailgate, but it can also swing open to the side like a door. This gives users a choice of easy-access methods for both cargo and the 7.3 cubic-foot (0.21 cubic meters) In-Bed Trunk® (see below). With the tailgate down, the 5-foot, 4-inch (1,626 mm) bed extends to more than seven feet (2.1 meters). The tailgate inner surface features two comfortable molded-in seats, quite literally improving its "tailgate party" capability.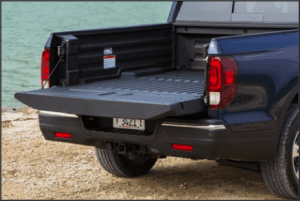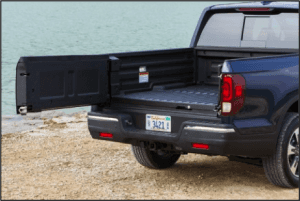 2017 Honda Ridgeline Exterior
In-Bed Trunk
The new Ridgeline's In-Bed Trunk keeps gear secure and out of sight. Its weather-tight, 7.3-cubic-foot (0.21 cubic meters) capacity can accommodate large items, like suitcases, a television, golf bags or a cooler up to 82 quarts in size (77.6 liters).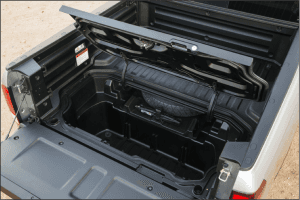 2017 Honda Ridgeline Exterior
Ridgeline's In-Bed Trunk features a drain plug, grocery bag hooks, and removable dividers.
The trunk also provides clean and secure storage for the Ridgeline's spare tire, jack and tools. The trunk floor is now flat, improving versatility compared to the previous-generation Ridgeline, whose trunk floor included a hump to allow clearance for the muffler. If the customer wants to use their trunk to store wet items or wash out the trunk, a handy drain plug allows easy drainage. Finally, three grocery-bag hooks allow securing groceries inside the trunk.
On RTS and above trims, the Ridgeline's Smart Entry unlocks the trunk upon the driver's approach (sensing the proximity of the remote key fob).
One-Touch Power Moonroof with Tilt Feature
2017 Honda Ridgeline Exterior – The Ridgeline RTL-E and Black Edition have a one-touch power moonroof with tilt feature that will fully open or close with a single touch of the switch. The moonroof mechanism was purposely designed to provide ample headroom. The moonroof has a sliding sunshade that opens with the roof and can be closed to block sunlight. To tilt or slide the moonroof, the driver or front passenger needs only to fully depress the ceiling-mounted switch once (instead of pressing and holding it for several seconds). The moonroof fully opens or closes automatically. However, if the operator wishes to only partially open or close the moonroof (such as to achieve partial ventilation), a lighter touch yields fully manual control. The moonroof can also tilt to provide ventilation. An auto-reverse feature is built in, helping to ensure that the moonroof will not forcefully close if someone's hand or arm is positioned in the path of the glass. If an obstruction is detected, the mechanism will reopen the moonroof. See Interior section for more information.
Low Drag Exterior
2017 Honda Ridgeline Exterior – Optimized in scale wind tunnel and full-scale coast-down validation, the 2017 Ridgeline's aerodynamic improvements include a 15-percent reduction in the coefficient of drag (CdA), as determined by CFD simulations. Aerodynamic aids include drag-reducing aerodynamic spoilers located at the rear of the roof and on the top of the tailgate (see Body section for additional details).
LED Lighting
The 2017 Ridgeline incorporates a wide range of available light-emitting diode (LED) exterior lighting features, including LED Daytime Running Lights (DRL), LED low-beam projector headlights, LED side marker lights and LED taillights.

LED Daytime Running Lights (DRL)
The Ridgeline RTL-T, RTL-E and Black Edition have bright, distinctive LED Daytime Running Lights (DRL). A signature design feature of the new Ridgeline, the DRLs utilize a wing shape positioned above and beside the available LED projector low-beams. Shaped to match the rugged, purposeful stance of the new Ridgeline, the LED DRL array is wider at the side and thinner on top, gradually tapering as it moves toward the inside of the headlight lens. Stylistically, the DRLs strongly and clearly define the front corners of the Ridgeline.

LED Projector Headlights with Auto On/Off
Exclusively on the Ridgeline RTL-E and Black Edition, LED low-beam projector headlights provide improved nighttime illumination and visibility compared to contemporary high-intensity discharge (HID) headlights. The low beams reach approximately 460 feet compared to approximately 360 feet for traditional halogen low beams, and the beam width is approximately 100 feet compared to approximately 65 feet for halogen low beams.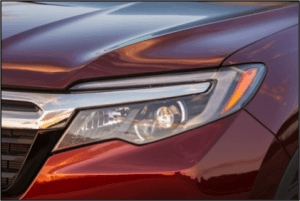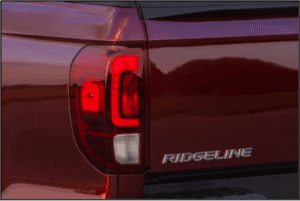 2017 Honda Ridgeline Exterior
Besides improving driver confidence and passive safety, the LED headlights use less energy, helping to enhance fuel efficiency by reducing engine loads. In addition, the LED headlights last up to three times longer than HID headlights and up to six times longer than halogen headlights – contributing to less frequent replacement and the associated cost savings. An auto on/off function is included, and the low-beams are also keyed to the remote key fob operation.

Auto High Beams
A crucial feature that should help the Ridgeline achieve a top Top Safety Pick+ rating from the Insurance Institute for Highway Safety (IIHS), the auto high beam feature on the RTL-E and Black Edition uses a camera located on the rearview mirror mount to continually scan for oncoming traffic and for traffic ahead of the vehicle in the same lane. The system illuminates the high beams except when oncoming traffic is detected. In this case the headlights automatically switch to the LED low-beams until the traffic has passed, then automatically switch back to high beams. Requiring no intervention or action from the driver, the auto high beam feature significantly improves nighttime illumination for enhanced active safety. The system functions when the headlight switch is in the Auto position, and may be disabled and reactivated by a quick pull on the high-beam stalk. An HSS icon appears on the instrument panel when the system is functioning.

LED Taillights
All 2017 Ridgeline trims feature large LED taillights, bolstering the substantial truck-like appearance.
Fog Lights
The Ridgeline RTS and above trims are equipped with halogen fog lights to enhance visibility and safety in inclement weather.
Windshield Wipers
The 2017 Ridgeline's new wiper design uses fewer parts – 11 versus 17 on the previous model – to reduce replacement cost. Designed to cover the maximum possible windshield area, the left (driver) and right (front passenger) windshield wipers are 25.6 inches (650 mm) and 23.6 inches (600 mm) long, respectively. They also feature breakaway wiper pivots to mitigate the potential for injury in the event of a pedestrian collision.
Power Sliding Rear Window
The RTL-E and Black Edition include a power sliding rear window, an exclusive feature in the midsize truck class. The window is controlled by a switch mounted on the center ceiling console, and is also now equipped with a defroster. The Ridgeline RT, RTS, Sport, RTL and RTL-T come with a fixed rear window, equipped with a defroster (see Body section).
Exterior Trim
The seven 2017 Ridgeline models offer a variety of distinctive exterior trim finishes, including chrome and black chrome, body color, and black. Up front, all trims have Honda's defining chrome grille bar and body-color grille frame. Likewise, all trims except the RT have body-color painted side mirror housings. Door handles are body color with the exception of mold-in-black finishes on the Ridgeline RT and blacked-out Sport, and chrome on the RTL-E. The Sport also includes unique badging. Finally, all Ridgeline trims benefit from chrome side window surrounds with the exception of high-gloss black on Ridgeline Sport and Black Edition. The complete list of exterior trim detail includes:
Trim Features
| | | | | | | | |
| --- | --- | --- | --- | --- | --- | --- | --- |
| Exterior Trim | RT | RTS | Sport | RTL | RTL-T | RTL-E | Black Edition |
| Grille Bar | Chrome | ? | ? | ? | ? | ? | Black chrome |
| Grille Frame | Black | ? | ? | ? | ? | ? | ? |
| Side Mirror Housings | Black | Body color | Body color w/high-gloss black base | Body color | ? | Body color w/high-gloss black base | ? |
| Door Handles | Black | Body color | High gloss black | Body color | ? | Chrome | Body color |
| Side Window Surround | Stainless steel | ? | Black | Stainless steel | ? | ? | Black |
| Rear Bumper Detail | Chrome | ? | ? | ? | ? | ? | Black Chrome |
Exterior Colors
The 2017 Ridgeline is available in seven exterior colors including three metallic, four pearl colors, depending on trim level. All colors have a strong character, offering expressive contrasts that complement the Ridgeline's body-panel curves and angles, while also exhibiting a modern, sophisticated and rugged appearance. The colors are: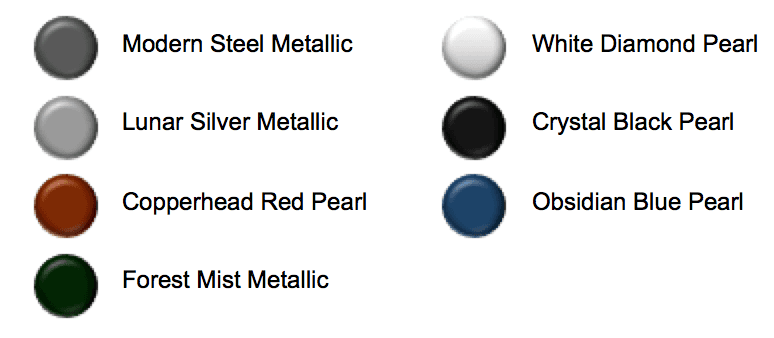 The exterior colors are keyed to the 2017 Ridgeline's three available interior colors:

2017 Honda Ridgeline Exterior
See the Interior section for more information.
Exterior Specifications and Features
Specification
RT
RTS
Sport
RTL
RTL-T
RTL-E
Black Edition
Wheelbase – in. (mm)
125.2 (3,180)
?
?
?
?
?
?
Length – in. (mm)
210 (5,335)
?
?
?
?
?
?
Height:
?
?
?
?
?
?
2WD – in. (mm)
70.2 (1,783)
AWD – in. (mm)
70.8 (1,798)
Width – in. (mm)
78.6 (1,997)
?
?
?
?
?
?
| | | | | | | | |
| --- | --- | --- | --- | --- | --- | --- | --- |
| Features | RT | RTS | Sport | RTL | RTL-T | RTL-E | Black Edition |
| Roof Antenna | • | • | • | • | • | • | • |
| Acoustic windshield | | | | • | • | • | • |
| One-Touch Power Moonroof with Tilt Feature | | | | | | • | • |
| Power sliding rear window | | | | | | • | • |
| Dual-Action Tailgate | • | • | • | • | • | • | • |
| In-Bed Trunk | • | • | • | • | • | • | • |
| Truck Bed Audio System* | | | | | | • | • |
| Smart Entry | | • | • | • | • | • | • |
| Push Button Start/Stop | • | • | • | • | • | • | • |
| LED daytime running lights (DRL) | | | | | • | • | • |
| Halogen projector headlights with Auto-off | • | • | • | | | | |
| Halogen projector headlights with Auto-on/off | | | | • | • | | |
| LED projector headlights with Auto high-beam* and Auto on/off | | | | | | • | • |
| LED high mount stop light | • | • | • | • | • | • | • |
| LED stop and tail lights | • | • | • | • | • | • | • |
| Halogen fog lights | Dealer accessory | • | • | • | • | • | • |
| One-touch turn signals | • | • | • | • | • | • | • |
| Power side mirrors | • | • | • | • | • | • | • |
| Roof rails (Silver or Black accessory) | • | • | • | • | • | • | • |
| Parking sensors (2 front/4 rear) | Dealer accessory (rear only) | ? | ? | ? | ? | • | • |
| Capless fueling system* | • | • | • | • | • | • | • |
* First for Ridgeline
2017 Honda Ridgeline Exterior