2017 Honda Ridgeline – Powertrain
2017 Honda Ridgeline – Powertrain
2017 Honda Ridgeline – Powertrain – The 2017 Ridgeline benefits from a completely reengineered powertrain and drivetrain that includes a new direct-injected i-VTEC V6 engine, a sophisticated 6-speed automatic transmission, and an available Intelligent Variable Torque Management (i-VTM4™) AWD system with Intelligent Traction Management system. Taken together, these new features and technologies give the new Ridgeline highly refined and responsive performance with top-in-class acceleration and fuel economy ratings, along with the improved all-weather traction and dynamic handling capabilities of available torque vectoring all-wheel-drive.
Powering the 2017 Ridgeline is a new 3.5-liter direct injected i-VTEC® 24-valve SOHC V-6 engine with Variable Cylinder Management™ (VCM™) cylinder deactivation technology. The new engine is mated to a new, smooth shifting 6-speed automatic (6AT) that offers a 20 percent wider gear ratio spread than the previous-generation Ridgeline 5-speed automatic for enhanced acceleration, pulling power and fuel efficiency. The Ridgeline's new engine is rated at 280 peak horsepower and 262 lb.-ft. peak torque. Peak engine output is up 30 horsepower and 15 pound-feet of torque over the previous Ridgeline, with increased torque over the engine's entire operating (rpm) range.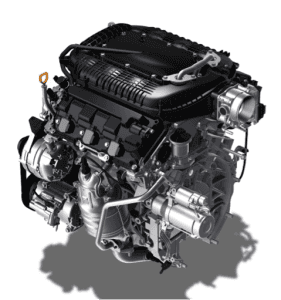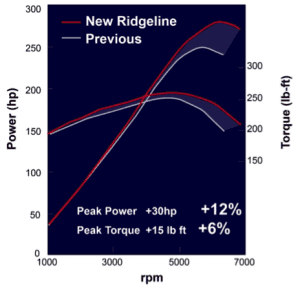 The new, more efficient engine and transmission, along with the lighter and yet more capable all-wheel-drive system, in combination with 73-pound (33 kg) reduction in vehicle weight and an 18 percent reduction in vehicle running resistance, results in substantially enhanced performance and fuel efficiency. The 2017 Ridgeline's 0-60mph acceleration is quickened by 1.8 seconds compared to the previous Ridgeline, based on internal Honda tests. EPA fuel economy ratings (city/highway/combined) are up across the board:
+4/5/5 mpg on FWD models (compared to previous AWD model)
+3/4/4 mpg on AWD models
The Ridgeline's dynamic handling capabilities and all-weather performance are significantly enhanced by the most advanced all-wheel-drive system in the Ridgeline's competitive class—the available all-new Intelligent Variable Torque Management (i-VTM4™) all-wheel-drive system with an electronically controlled rear differential and dynamic torque vectoring capabilities that aids both all-weather traction and dynamic cornering and handling performance. Compared to the previous-generation Ridgeline AWD system, weight is reduced by 22 pounds (10 kg) and torque capacity is increased by 20 percent. To further enhance all-weather performance, both the front-wheel drive (FWD) and all-wheel drive (AWD) Ridgeline models include Intelligent Traction Management with push-button control, allowing the driver to choose between Normal, Snow, Mud and Sand modes with AWD, and Normal and Snow with FWD for optimal performance and traction in varying road and surface conditions.
Key Powertrain Features
Engine
New 3.5-liter, SOHC V-6 engine
280 peak horsepower and 262 lb.-ft. peak torque
i-VTEC® (intelligent Variable Valve Timing and Lift Electronic Control) for intake valves
Variable Cylinder Management™ (VCM®) cylinder deactivation
Computer-controlled Direct Injection (DI) with multi-hole fuel injectors
11.5:1 compression ratio
High-tensile strength steel crankshaft
Drive-by-Wire throttle system
Detonation/knock control system
Maintenance Minder™ system optimizes service intervals
100,000+/- miles tune-up interval
Emissions/Fuel Economy Ratings
High-flow, close-coupled next-generation precious metal catalytic converters plus under floor catalytic converter
High capacity 32-bit RISC processor emissions control unit
LEVIII ULEV-125  Emissions compliant5 
Improved U.S. EPA fuel-economy ratings (city/highway/combined)
19/26/22 mpg (2WD)
18/25/21 mpg (AWD)
Transmission
All-Wheel-Drive System
New Intelligent Variable Torque Management (i-VTM4) AWD system with front-to-rear and left-to-right dynamic torque vectoring
Capable of "overdriving" rear wheels to enhance handling
Engine Architecture and Features
Cylinder Block and Crank
With its 60-degree V-angle, the Ridgeline's V-6 engine is inherently smooth and has compact overall dimensions that allow efficient packaging within the vehicle. The V-6 has a die-cast lightweight aluminum alloy block with cast-in-place iron cylinder liners. Made with a centrifugal spin-casting process, the thin-wall liners are high in strength and low in porosity. The block incorporates a deep-skirt design with four bolts per bearing cap for rigid crankshaft support and minimized noise and vibration. The 3.5-liter V-6 uses a high-tensile strength steel crankshaft for minimum weight.
A cooling control spacer positioned in the water jacket surrounding the cylinders helps control warm-up and operating cylinder liner temperatures to reduce friction. Plateau honing of the cylinder lining further reduces friction between the piston skirts and the cylinder walls by creating an ultra-smooth surface. This two-stage machining process uses two grinding processes instead of the more conventional single-stage honing process. Plateau honing also enhances the long-term wear characteristics of the engine.
Pistons/Connecting Rods
Designed with "cavity-shaped" crowns, the 2017 Ridgeline's pistons help maintain stable combustion and contribute to stratified-charge combustion. Ion-plated piston rings help reduce friction for greater operating efficiency. Heavy-duty steel connecting rods are forged in one piece and then "crack separated" to create a lighter and stronger rod with an optimally fitted bearing cap.
Cylinder Head and Valvetrain
Like other Honda V-6 powerplants, the Ridgeline engine's 12-valve cylinder heads (4 valves per cylinder) are a single-overhead-camshaft design, with the cams driven by the crankshaft via an automatically tensioned toothed belt. Made of low-pressure cast, low-porosity aluminum, each cylinder head incorporates a "tumble port" design that improves combustion efficiency by creating a more homogeneous fuel-air mixture. An integrated exhaust manifold cast into each cylinder head reduces parts count, saves weight, improves flow and optimizes the location of the close-coupled catalyst on each cylinder bank.
i-VTEC with 2-Stage Variable Cylinder Management™ (VCM®)
The 2017 Ridgeline's V-6 engine combines Variable Cylinder Management (VCM) with Variable Valve Timing and Lift Electronic Control (i-VTEC), which changes the lift profile, timing and lift duration of the intake valves. A switching mechanism allows each cylinder to operate with low-rpm valve lift and duration or high-rpm lift and duration. While operating in 3-cylinder mode, the rear cylinder bank's valve gear closes all intake and exhaust valves to minimize pumping losses.
The "intelligent" portion of the system is its ability to vary valve operation based on the driving situation and engine rpm. At low rpm, the i-VTEC intake valve timing and lift are optimized (low lift, short duration) for increased torque, which allows a wide range of 3-cylinder operation. As engine rpm builds past 5,350 rpm, the i-VTEC system transitions to a high-lift, long-duration intake cam profile for superior high-rpm engine power.
VCM Operation
To help improve the fuel efficiency of the Ridgeline engine, a new variation of Honda's Variable Cylinder Management (VCM) is used. The i-VTEC system combines with Active Control engine Mounts (ACM) to allow the VCM system to operate with just three cylinders in a wide range of situations to maximize fuel efficiency and lower emissions. When greater power is needed, the system switches seamlessly to 6-cylinder operation.  
During startup, aggressive acceleration, or steep ascents – any time high power output is required – the engine operates on all six cylinders. During moderate-speed cruising and at low or moderate engine loads, the system operates just the front bank of three cylinders while the rear bank is idle.
The VCM system can tailor the working displacement of the engine to match the driving requirements from moment to moment. Since the system automatically closes both the intake and exhaust valves of the cylinders that are not used, pumping losses associated with intake and exhaust are eliminated and fuel efficiency gets a further boost. The system combines maximum performance and maximum fuel efficiency—two characteristics that don't typically coexist in conventional engines.
VCM deactivates the rear bank of cylinders by using the i-VTEC (intelligent Variable Valve-Timing and Lift Electronic Control) system to close the intake and exhaust valves while the Electronic Control Unit (ECU) simultaneously cuts fuel to those cylinders. The spark plugs continue to fire in inactive cylinders to minimize plug temperature loss.
The system is electronically controlled, and uses special integrated spool valves in the cylinder heads. Based on commands from the system's Electronic Control Unit, the spool valves selectively direct oil pressure to the rocker arms for specific cylinders. This oil pressure in turn drives synchronizing pistons that connect and disconnect the rocker arms.
The VCM system monitors throttle position, vehicle speed, engine speed, automatic-transmission gear selection and other factors to determine the correct cylinder activation scheme for the operating conditions. In addition, the system determines whether engine oil pressure is suitable for VCM switching and whether catalytic converter temperature will remain in the proper range. To further smooth the activating or deactivating cylinders, the system adjusts ignition timing and throttle position and turns the torque converter lock-up on and off. As a result, the transition between three and six cylinder modes is effectively unnoticeable to the driver.
Drive-by-Wire Throttle System
The Ridgeline's Drive-by-Wire throttle system replaces a conventional throttle cable with smart electronics that "connect" the accelerator pedal to a throttle valve inside the throttle-body. The result is less under-hood clutter and lower weight, as well as quicker and more accurate throttle actuation. Plus, a specially programmed "gain" rate between the throttle pedal and engine offers improved drivability and optimized engine response to suit specific driving conditions.
Honda's Drive-by-Wire throttle system establishes the current driving conditions by monitoring throttle pedal position, throttle valve position, engine speed (rpm) and road speed. This information is used to define the throttle control sensitivity that gives the Ridgeline's throttle pedal a predictable and responsive feel.
Direct Injection System
The direct-injection system enables increased torque across the engine's full operating range along with higher fuel efficiency. The system features a compact, high-pressure, direct-injection pump that allows both high fuel flow and pulsation suppression, while variable pressure control optimizes injector operation. A multi-hole injector delivers fuel directly into each cylinder (not to the intake port, as in conventional port fuel injection designs), allowing for more efficient combustion.
The multi-hole injectors can create the ideal stoichiometric fuel/air mixture in the cylinders for good emissions control. Theoretically, a stoichiometric mixture has just enough air to completely burn the available fuel. Based on the operating conditions, the direct-injection system alters its function for best performance. Upon cold engine startup, fuel is injected into the cylinders on the compression stroke. This creates a weak stratified charge effect that improves engine start-up and reduces exhaust emissions before a normal operating temperature is reached.
Once the engine is fully warmed up, for maximum power and fuel efficiency fuel is injected during the intake stroke. This helps create a more homogeneous fuel/air mix in the cylinder that is aided by the high-tumble intake port design. This improves volumetric efficiency, and the cooling effect of the incoming fuel improves anti-knock performance.
High Capacity Radiator with Dual High-Power Fans
All Ridgeline models have a high capacity radiator with dual high-power fans to assure adequate engine cooling across a broad spectrum of operating conditions. Honda engineers tested the Ridgeline in some of the toughest towing conditions found in America, included hauling a large boat up a steep 14-degree launch ramp for over half a mile in temperatures over 100º Fahrenheit, and climbing mountain grades pulling the maximum trailer weight (5,000 pounds, or 2,268 kg, AWD), maximum interior cargo (100 pounds, 45.4 kg) and two passengers. (For more information on towing, see the Chassis section.)
Detonation Knock Control
The Ridgeline's Electronic Control Unit (ECU) monitors engine functions to determine the best ignition spark timing. Two engine block-mounted acoustic detonation/knock sensors "listen" to the engine, and based on this input, the ECU can retard the ignition timing to prevent potentially damaging detonation. The 3.5-liter V-6 has an ignition coil unit for each cylinder that is positioned within each spark plug's access bore.
Close-Coupled Catalysts and High-Flow Exhaust System
The exhaust manifolds of the 3.5-liter V-6 are cast directly into the aluminum cylinder heads to reduce weight, decrease parts count, and create more under-hood space. The result of this casting design is that the two primary catalytic converters are positioned much closer to the combustion chambers, enabling extremely rapid converter "light-off" after engine start. A significant weight savings is realized by eliminating traditional exhaust manifolds. Downstream of the close-coupled catalytic converters, a hydroformed 2-into-1 collector pipe carries exhaust gases to a secondary, underfloor catalytic converter.
Emissions Control
The 2017 Ridgeline 3.5-liter V-6 engine meets the tough EPA Tier 3/Bin 125 and CARB LEVIII ULEV-125 emissions standards, and is certified, as applicable, to this level of emissions performance for 150,000 miles. A number of advanced technologies are factors in the emissions performance. The unique cylinder head-mounted close-coupled catalytic converters light off more quickly after engine start up, and a 32-bit RISC microprocessor within the Electronic Control Unit (ECU) boosts computing power to improve the precision of spark and fuel delivery.
The engine features direct fuel injection that continually adjusts the fuel delivery to yield the best combination of power, low fuel consumption and low emissions. Multiple sensors constantly monitor critical engine operating parameters such as intake air temperature, ambient air pressure, throttle position, intake airflow volume, intake manifold pressure, coolant temperature, fuel-to-air ratios, as well as the position of the crankshaft and the camshafts.
To further improve emissions compliance, the 3.5-liter V-6 makes use of an after-catalytic-converter exhaust gas recirculation (EGR) system that allows cleaner, cooler EGR gas to be fed back into the intake system. An EGR system, especially one that delivers a cleaner, cooler charge, reduces pumping loss for better fuel efficiency.
Noise and Vibration Control
With its 60-degree V-angle and compact, rigid and lightweight die-cast aluminum cylinder block assembly, the 3.5-liter V-6 powerplant is exceptionally smooth during operation. Other factors that help reduce engine noise and vibration are a rigid forged-steel crankshaft, die-cast accessory mounts, and a stiff cast-aluminum oil pan that reduces cylinder block flex.
Active Control Engine Mounts
A powerful 28-volt Active Control Engine Mount system (ACM) is used to minimize the effects of engine vibration when operating in three-cylinder mode. The 28-volt ACM is a key factor in the VCM's broad range of operation in the new Ridgeline. Sensors alert the Electronic Control Unit (ECU) to direct ACM actuators positioned at the front and rear of the engine to cancel engine vibration using a reverse-phase motion. See the Interior section for more information.
100,000+/- Mile Tune-up Intervals
The Ridgeline's 3.5-liter V-6 requires no scheduled maintenance for 100,000+/- miles or more, other than periodic inspections and normal fluid and filter replacements. The first tune-up includes water pump inspection, valve adjustment, replacement of the camshaft timing belt, and the installation of new spark plugs.
Battery Management System
The Battery Management System (BMS) is designed to increase the overall service life of the battery, reduce the chance of a dead battery and help improve fuel efficiency. Should the owner accidentally leave the headlights on or fail to fully close a door causing an interior light to remain on, the BMS will automatically terminate power delivery after a set period of time to prevent the battery from being drained of power. As a result of the discharge protection afforded by the BMS, the battery should always have enough reserve capacity left to start the engine.
The Ridgeline engine makes use of a powerful 150-amp alternator that uses linear control – from 12-14 volts. By controlling the alternator charge voltage range, BMS works to keep the battery in a specific charge range, which can extend the service life of the battery by more than 25 percent. With BMS keeping the battery in a specific charge range, the alternator can run more often at a lower voltage, which generates less drag on the engine resulting in improved fuel efficiency. Application of numerous electrical power reducing items (such as the use of efficient LED lighting and a special humidity control system that has an automatic air conditioning "off" function) allows the BMS to operate the alternator even more frequently in the more efficient low charge mode
Maintenance Minder™ System
To eliminate unnecessary service stops while ensuring that the vehicle is properly maintained, the Ridgeline has a Maintenance Minder™ system that continually monitors the vehicle's operating condition. When maintenance is required, the driver is alerted via a message on the Multi-Information Display (MID).
The Maintenance Minder™ system monitors operating conditions such as oil and coolant temperature along with engine speed to determine the proper service intervals. Depending on operating conditions, oil change intervals can be extended to a maximum of 10,000 miles, potentially sparing the owner considerable expense and inconvenience over the life of the vehicle. The owner-resettable system monitors all normal service parts and systems, including oil and filter, tire rotation, air-cleaner, automatic transmission fluid, spark plugs, timing belt, coolant, brake pads and more. To reduce the potential for driver distraction, maintenance alerts are presented on the MID only when the ignition is first turned on, not while driving.
Drivetrain Architecture and Features
6-Speed Automatic Transmission
All Ridgeline models feature a standard 6-speed automatic transmission that contributes to improved acceleration and fuel efficiency, and features reduced friction and improved lockup clutch performance. The 6-speed automatic offers excellent launch-feel, acceleration performance and fuel efficiency with an 20 percent wider gear ratio spread featuring a "lower" (numerically higher) first gear overall ratio, and a "higher" (numerically lower) top gear overall ratio than the 5-speed transmission it replaces in the last generation Ridgeline. To support the Ridgeline AWD's 5000 pound tow rating, a heavy duty transmission cooler is standard in all AWD models. The 6-speed transmission's straight-gate shifter is an intuitive and easy-to-use design that takes up little space in the center console.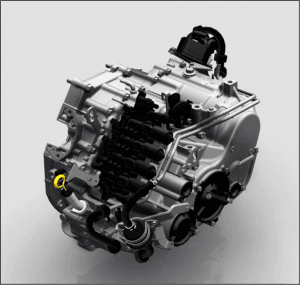 Transmission Gear Ratio Comparison
| | | |
| --- | --- | --- |
| Gear | 2014 Ridgeline 5 AT | 2017 Ridgeline 6 AT |
| 1st | 2.697 | 3.359 |
| 2nd | 1.606 | 2.095 |
| 3rd | 1.071 | 1.485 |
| 4th | 0.766 | 1.065 |
| 5th | 0.538 | 0.754 |
| 6th | — | 0.556 |
| Reverse | 1.888 | 2.269 |
| Final Reduction Ratio | 4.533 | 4.250 |
2-Wheel Drive
The Ridgeline offers standard 2-wheel drive. With its efficient and lightweight design, the Ridgeline system drives the front wheels to make a significant contribution to overall fuel efficiency. Operation in Snow Mode, using the Intelligent Traction Management System, adjusts the drive-by wire map, transmission shift map and Vehicle Stability Assist™ for the best performance.
Intelligent Variable Torque Management (i-VTM4™) AWD System
The Ridgeline's available Intelligent Variable Torque Management (i-VTM4) all-wheel-drive system includes an all-new electronically controlled, hydraulically actuated rear differential. This entirely more capable system progressively distributes optimum torque between the front and rear axles and, for the first time ever in a Honda vehicle, dynamically distributes engine torque between the left and right rear wheels. The benefits of the system are superior all-weather handling and neutral, accurate steering under power that is unmatched by front-drive, rear-drive or conventional all-wheel-drive systems.
By rotating the outside rear wheel faster than the front wheels while cornering, Ridgeline's AWD system uses torque vectoring to create a yaw moment to help turn the vehicle through the corner—reducing understeer and improving controllability. With cornering forces more evenly distributed between front and rear tires, overall cornering power is increased in all road conditions.
Vehicles with high power ratings using conventional front or rear drive systems often employ a limited-slip differential to help maintain traction when under power. By linking inside and outside drive wheels, these systems tend to resist turning. Conventional AWD and 4WD systems similarly work to link the inboard and outboard wheels as well as the front and rear wheels, which can create additional resistance to turning. Using dynamic, hydraulically actuated left-to-right rear wheel torque vectoring to help turn the vehicle, the Ridgeline's AWD system delivers more responsive, neutral and predictable handling performance while providing outstanding all-weather traction and control.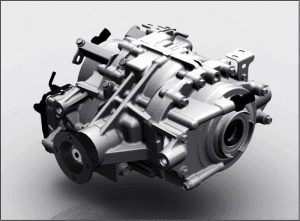 Controls and Parameters
The i-VTM4 system works in cooperation with the Ridgeline's Vehicle Stability Assist™ (VSA®) system and Agile Handling Assist to optimize torque distribution for superior handling and traction utilization. The Electronic Control Unit (ECU) provides information on engine torque, airflow and transmission gear-ratio selection, while the VSA ECU provides wheel-speed data. The AWD ECU also monitors steering angle, steering angle rate of change, lateral G-forces, vehicle yaw rate and hydraulic clutch pressure for the right and left rear axle shafts. Drive torque is calculated from ECU information, and then the acceleration situation, wheel spin, lateral G-force, steering angle and steering angle rate-of-change are used to determine the front-to-rear torque distribution and the torque split between right and left rear wheels. i-VTM4 operating parameters include:
Up to 100 percent of available torque can be transferred to the front wheels during normal cruising.
In hard cornering and under acceleration, up to 70 percent of available torque can be directed to the rear wheels to enhance vehicle dynamics.
Up to 100 percent of the torque sent to the rear axle can be applied to either the left or right rear wheel, depending on conditions.
System Layout
The Ridgeline AWD system is a fulltime system that requires no driver interaction or monitoring, thanks to a torque-transfer unit that is bolted directly to the front-mounted transaxle. The torque-transfer unit receives torque from a helical gear that is attached to the front differential's ring gear, and a short horizontal shaft and hypoid gear set within the torque-transfer unit's case send power to the rear propeller shaft, which in turn transfers power to the rear drive unit that has a 20-percent greater torque capacity.
The Ridgeline's new, lightweight rear drive unit is 22 lbs. (10 kg) lighter than the previous generation Ridgeline unit and is constantly overdriven by 2.7 percent. The resulting overdrive effect is regulated by left- and right-side clutch packs (located in the rear differential) that independently control the power delivered to each rear wheel. The significant overdrive percentage in the new Ridgeline means that the torque vectoring effect is pronounced and effective even in corners with a radius of as little as 49.2 feet (15 meters). This means that torque vectoring can be felt when accelerating aggressively through a typical corner.
Hydraulically operated clutch systems mounted on either side of the hypoid gear that drives the rear axles control the amount of torque sent to each rear wheel and provide a limited-slip differential function when needed. The clutches can be controlled as a pair to alter front/rear torque split or they can be controlled independently to allow 100 percent of available rear axle torque to go to just one rear wheel. A single electric motor powers a pair of hydraulic pumps—one for each clutch pack. An Electronic Control Unit (ECU) controlled linear solenoid valve selectively sends pressure to the clutch packs, which in turn control the amount of power sent to each rear wheel. The clutch packs and their friction material are carefully designed to withstand the small amount of continuous slip between front and rear axles created by the 2.7-percent speed differential—all while delivering the durability expected of a Honda product.
Intelligent Traction Management System
The 2017 Ridgeline features a new push-button-operated Intelligent Traction Management System that offers four different AWD operating modes: Normal, Snow, Mud and Sand; and two 2WD modes: Normal and Snow.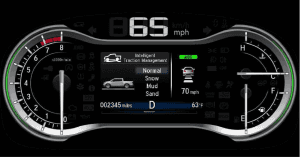 Developed, tuned and tested at various locations in the U.S. and around the world—including Imperial Sand Dunes ("Glamis") in California; Moscow, Russia; and Dubai, United Arab Emirates—the Intelligent Traction Management system allows the driver to select the operating mode that best suits the driving conditions by simply pushing a button on the vehicle's center console. System information and an animated selected mode icon are shown on the color Multi-Information Display. Based on the setting selected, the system adjusts the drive-by-wire map, transmission shift map, i-VTM4 power distribution and Vehicle Stability Assist™ for optimal performance in varying road or surface conditions.
Powertrain Key Features & Specifications Comparison
| | | |
| --- | --- | --- |
| Feature | 2014 Ridgeline | 2017 Ridgeline |
| Engine Type | V-6 | V-6 |
| Displacement (cc) | 3,471 | 3,471 |
| Horsepower @ rpm (SAE net) | 250 @ 5,700 | 280 @ 6,000 |
| Torque (lb-ft @ rpm SAE net) | 247 @ 4,300 | 262 @ 4,700 |
| Bore and Stroke (mm) | 89 x 93 | 89 x 93 |
| Compression Ratio | 10.0:1 | 11.5:1 |
| Valvetrain | 24-Valve SOHC VTEC® | 24-Valve SOHC i-VTEC® |
| Fuel Delivery | Port Injection | Direct Injection |
| Drive-by-Wire Throttle System | • | • |
| Variable Cylinder Management | | • |
| Variable Intake Valve Lift (VTEC) | • | • |
| Transmission | 5-Speed Automatic | 6-Speed Automatic |
| 2-Wheel Drive | NA | • |
| Available AWD | • | • |
Powertrain Features
Feature
2017 Ridgeline (All Trims)
Engine Type
V6
Engine Block/Cylinder Head
Aluminum-Alloy
Displacement (cc)
3,471
Horsepower (SAE net)
280 @ 6,000 rpm
Torque (SAE net)
262 lb-ft @ 4700 rpm
Redline
6800 rpm
Bore and Stroke
89 mm x 93 mm
Compression Ratio
11.5:1
Valve Train
24-Valve SOHC i-VTEC®
Fuel Injection
Direct
Drive-by-Wire Throttle System
•
Eco Assist™ System
•
Variable Cylinder Management™ (VCM®)
•
Active Control Engine Mount System (ACM)
•
Active Noise Cancellation™ (ANC)
•
Hill Start Assist
•
6-Speed Automatic Transmission
•
Intelligent Variable Torque Management™ (i-VTM4™) AWD System
Available
Intelligent Traction Management
Normal/Snow (FWD)
Normal/Snow/Sand/Mud (AWD)
Remote Engine Start
RTS and above
100K +/- Miles No Scheduled Tune-Ups2
•
Fuel Economy and Emissions Ratings
2017 Ridgeline 6AT (base)
EPA Fuel Economy Ratings (city/highway/ combined) 
19 / 26 / 22 (FWD)
18 / 25 / 21 (AWD)
Recommended fuel
Regular unleaded 87 octane
EPA Emissions Rating
TIER 3 / BIN 125
CARB emissions rating
 LEVIII ULEV-125
2 Includes: All Season Floor Mats-High Wall, Wheel Locks and In Bed Trunk Carpet
5 May not be legal in all states. Check the laws of your state.
2017 Honda Ridgeline – Powertrain