Adam Savage's Tested
Honda Partners With Adam Savage's Tested.com for New Digital Series; Episodes Star the All-New 2017 Honda Ridgeline Pickup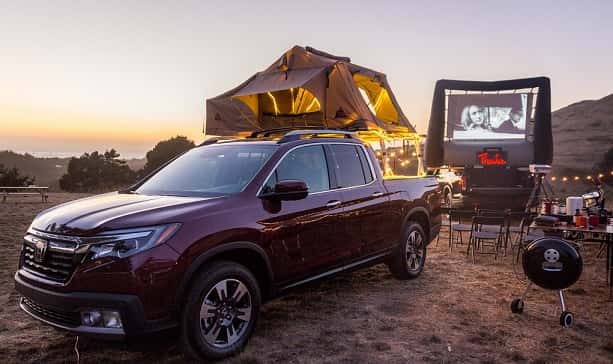 October 4, 2016
Honda is joining forces with Tested and Adam Savage (maker, producer, and former host of the popular "Mythbusters" TV series) to debut six original Features Not Standard episodes on www.Tested.com spotlighting the all-new 2017 Honda Ridgeline pickup truck. Each new episode focuses on entertaining custom builds that highlight unique Ridgeline features such as the industry-first lockable In-Bed Trunk®, Truck Bed Audio System and Dual Action Tailgate.
"The partnership with Tested and Adam Savage is a great opportunity to share the versatility and functionality of the all-new Honda Ridgeline," said Phil Hruska, Manager of Media Strategy at American Honda Motor Co., Inc. "The Ridgeline is unlike any other truck in its segment and we're hoping to show its capabilities and unique features through these custom builds."
From a mobile movie theater to creating the ultimate dirt-bike mobile pit-stop, fans who tune into the new Tested episodes will experience how Adam Savage and team are able to transform the Ridgeline into a mobile campsite, sous vide cooking station, a weather balloon launchpad and more.
The premiere Features Not Standard episode featuring the Ridgeline takes the Tested team on the campout of a lifetime. To prepare for the trip, Adam Savage and crew each modified a Honda Ridgeline to fulfill personal camping dreams. The episode culminates with a conversion of the Ridgeline truck into a mobile movie theater that packs up for travel and deploys on-site at the campground. The first episode in the fall series can be viewed at: http://bit.ly/2cAK8D7 . We have also included the 3 videos in the series below for your viewing pleasure!
The Tested Honda Ridgeline webisodes are the latest in media programming to support the integrated marketing campaign for the completely redesigned 2017 Honda Ridgeline, now available in dealerships nationwide. The online series will be shared on Tested.com as well as Tested's popular YouTube channel, which has over 2 million subscribers, and on UPROXX.com.
The Redesigned and Re-engineered 2017 Honda Ridgeline
The all-new Ridgeline builds on the unique and still industry-exclusive features that debuted in the award-winning first-generation Ridgeline in 2005. With superior on-road manners and a spacious, flexible interior — the 2017 Ridgeline adds the Truck Bed Audio System to the already industry-first In-Bed Trunk® and Dual-Action Tailgate. Ridgeline joins Honda's expanded lineup of innovative light-truck models, including the HR-V crossover, the CR-V and Pilot SUVs and the Odyssey minivan.
The Ridgeline was developed by Honda R&D Americas in Ohio and California, and is produced exclusively at Honda's Lincoln, Alabama, auto and engine plant, alongside the Pilot and Odyssey.
Adam Savage's Portable Movie Theatre!
Turning a Truck Into a Treehouse!
Simone Giertz Builds a Bathtub in a Truck!
# # #
© 2000 – 2016, American Honda Motor Co., Inc. All Rights Reserved.