New Honda Marketing Campaign Asks "Why Not?" to Highlight "Best SUV Brand"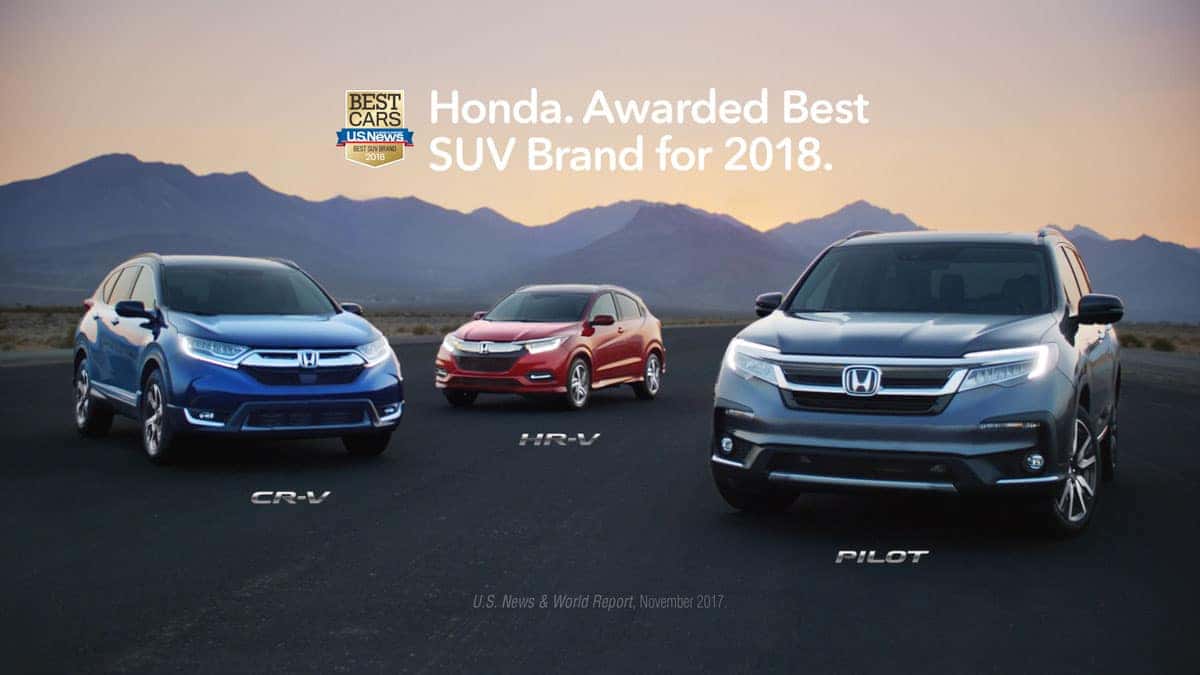 – TORRANCE, Calif.
Honda named "2018 Best SUV Brand" by U.S. News & World Report
Full-line SUV campaign showcases 2019 HR-V, CR-V and Pilot
Honda's SUV lineup headed toward a 7th consecutive year of record sales
Campaign includes multicultural spots targeting rapidly growing customer base
Honda is debuting a new marketing campaign highlighting how the brand's family of SUVs offer a size and capability to meet every need, boasting the "Best SUV Brand for 2018" by U.S. News & World Report. Honda's full-line SUV marketing campaign features new creative showcasing its sporty, stylish and well-equipped SUV lineup, including the HR-V, CR-V and Pilot models: https://Honda.us/WhyNot, as well as separate broadcast spots highlighting the refreshed HR-V and Pilot. The campaign includes two new multicultural spots that incorporate unique insights of the brand's Hispanic and African American buyers and demonstrate Honda SUVs and their range of capabilities for different consumers. The Honda full-line SUV campaign also features digital and social elements targeting Honda's diverse customer segments.
With CR-V in a heated battle to be the retail #1 SUV in America, more than 40% growth from Pilot and strong contributions from HR-V, Honda SUVs are on track for a seventh consecutive year of record sales, and anticipated to top sales of 600,000 units for the first time
"We set out to create a campaign that showcases the breadth of the Honda SUV family while showing how each vehicle is tailored to meet the unique needs of our customers," said Susie Rossick, assistant vice president of Honda Marketing. "Honda SUV customers are showing significant sales growth in all buyer segments, which is why now is the right time to tout our strong and flexible SUV lineup across all audiences".
Full-Line SUV Campaign Creative
Honda's new full-line SUV marketing campaign features five pieces of creative content: a 30-second TV spot starring the full Honda SUV lineup – the 2019 HR-V, CR-V and Pilot –, 30-second spots specific to each: the 2019 HR-V and Pilot, a :30 Hispanic full-line SUV spot as well as a :30 full-line SUV spot created specifically for African American consumers.
"Why Not?," the 30-second TV spot featuring the Honda Pilot, HR-V and CR-V, leads off the campaign demonstrating that whatever the driver's needs may be, Honda has an SUV that best fits them: https://Honda.us/WhyNot. Honda believes something great can always be greater.  "Why not?" is a simple question that encapsulates Honda's determination to ignore conventional wisdom and constantly seek to innovate. The new "Why Not?" spots show that when it comes to Honda's award-winning SUV family, the willingness to go beyond great is alive and well.
The full SUV lineup "Why Not? "spot will be followed by :30-second creative focusing on both the updated Pilot as well as the HR-V. "Why Pilot?" highlights the 8-seat SUV's more aggressive exterior styling, refined powertrain and available hands-free power tailgate and wireless charging. "Why HR-V" features its new Sport trim, new styling and bold new colors, as well as upgraded tech features – like Apple CarPlay™ and Android Auto™ integration now available on all HR-Vs. There will also be a digital component of the campaign for Pilot and HR-V, with standard and animated banners, demo videos, web promotions and home page takeovers on major websites including ESPN and MSN.
Multicultural Campaign Elements 
Honda's full-line SUV campaign includes multicultural extensions, with the debut of a :30 Hispanic TV spot, "Para Para" (https://Honda.us/ParaPara) and a spot for African American consumers, "Family Dinner" (https://Honda.us/FamilyDinner).
Available in both English and Spanish, "Para Para" communicates the durability, reliability and quality of Honda SUVs resonating with Honda's Hispanic audience. It shows how the Honda SUV lineup fits multigenerational lifestyles with its range of vehicles meeting the different needs of every family member in various phases of their lives. In just four years, SUVs and light trucks have risen from 46 to 59% of Hispanic new vehicle sales. Honda and its agency, Orci Advertising, created "Para Para" to communicate the durability, quality, reliability and ruggedness of Honda SUVs in order to continue to build these credentials with their Latino audience.
In its new "Family Dinner" spot, Honda, together with agency Muse, introduces African American audiences to the newly redesigned HR-V and Pilot along with America's best-selling CR-V. The spot speaks to Honda's family of sport utility vehicles and how they are capable of handling any situation, even if it's just going to a family dinner. Since 2015, Honda's SUV share has increased from 29% to 34% with African American consumers, with sales growth of 29% over the past three years.
Campaign Media Extensions
Honda's "Why Not?" spots will be highlighted across high-impact sporting events, including, NCAA Football and NFL match-ups. In addition to sports, the spots will also air during popular Fall premieres across major networks. Honda will partner with UPROXX and Mitu to develop entertaining branded content specifically showcasing the HR-V. For Pilot, digital elements will be featured on sports and entertainment properties.
2019 Honda Pilot, HR-V and CR-V 
The redesigned 2019 Honda Pilot recently arrived in dealerships with a more aggressive and stylish appearance and available upgraded connected-car technology features including a new available Display Audio touchscreen system with Apple CarPlay™ and Android Auto™ integration. Pilot also comes standard with the Honda Sensing® suite of advanced safety and driver-assistive technology, and recently earned the 2018 Insurance Institute for Highway Safety's (IIHS) highest overall safety rating of TOP SAFETY PICK+ (with certain headlights).
Honda's sporty and versatile 5-door subcompact SUV, 2019 HR-V, also went on sale this summer. In addition to the expanded trim options, new Sport and Touring trims, HR-V features fresh exterior and interior styling as well as new in-vehicle technology features including standard Apple CarPlay™ and Android Auto™ integration on Sport and higher trims. Honda Sensing® is also available as standard equipment on EX and higher trims, making Honda's safety and driver-assistive technology available on every Honda model.
The Honda CR-V has been America's best-selling SUV for over the past 20 years1. The fun-to-drive, stylish yet comfortable CR-V continues to set high expectations and maintain its leading position in the compact SUV segment. Also offering premium features including Apple CarPlay™ and Android Auto™ integration as well as an available Honda Satellite-Linked Navigation System™. Honda's safety and driver-assistive technology suite, Honda Sensing®, is standard on EX and higher trims.
About Honda
Honda offers a full line of reliable, fuel-efficient and fun-to-drive vehicles with advanced safety technologies sold through over 1,000 independent U.S. Honda dealers. The Honda lineup includes the Fit, Civic, Insight, Accord and Clarity series passenger cars, along with the HR-V, CR-V and Pilot sport/utility vehicles, the Ridgeline pickup and the Odyssey minivan.
Honda has been producing automobiles in America for 35 years and currently operates 19 major manufacturing facilities in North America. In 2017, more than 90 percent of all Honda brand vehicles sold in the U.S. were made in North America, using domestic and globally sourced parts.
Read at Hondanews.com
# # #
1. Based on Autodata cumulative total sales for all SUV and CUV models in America 1997-2018CYTD August